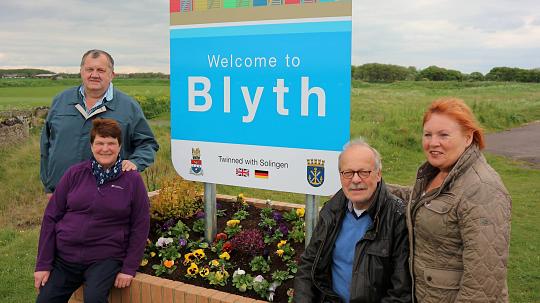 ANNE AND BRIAN DAWSON OF BLYTH TOWN TWINNING WITH THEIR SOLINGEN COUNTERPARTS CHRISTA AND BERND CLEMENS  AT THE NEW GATEWAY SIGN ON LINKS ROAD.
A thirty-strong group from twin town Solingen in Germany, recently enjoyed a four-day visit to Blyth.  On arrival the visitors were particularly pleased to see the freshly installed gateway signs flagging up Solingen's status as Blyth's twin.  A further welcome awaited them at a reception held in Arms Evertyne House where they were greeted by Blyth's new Mayor, John Potts, who had only just taken up office. 
Amongst other new developments since the Solingen group's last visit in 2015, the completion of the Commissioners Quay Inn on the quayside meant the party was able to stay in Blyth itself. On previous visits, the group had to be accommodated outside the Blyth area so had less opportunity to explore the town This time they were able to appreciate much more of the ongoing regeneration of the quayside, the Tall Ship Project, training centre, the Port and the massive components linked to the development of offshore renewable energy. They admired the recently restored buildings in the town's central Heritage area, and the cutting edge design of a new supermarket building belonging to a rather familiar German company !  The refurbished Coastline restaurant on the seafront was another local destination, where the group enjoyed traditional fish and chips.
Along with these new attractions, a look into the town's past was offered by a guided tour of the Blyth Battery with an informative and entertaining account of its unique historical significance.  During their stay the group also visited other historical sites in Bamburgh, Warkworth, Corbridge and Hexham but the main focus of the visit was on continuing the friendship forged between the twin towns which dates back to 1962. Blyth Citizen Exchange Group runs the town twinning and organised the visit. In 2018, the Blyth Group will visit Solingen, further building on 55 years of international friendship between Blyth and Solingen. 
Anyone interested in joining the Blyth Citizen ExchangeGroup should contact the Chair Mrs Anne Dawson on 01670 361432.